Team Collins Training & Development
Coach Dennison and Tabia Collins are nothing short of your dynamic duo. Dennison, one of the top youth athletic coaches in Canada, currently coaches a Junior National and two provincial champions in track & field. Together, they also coach a couple of young basketball stars who were named season MVPs. Tabia, 2019 University of Miami Hall of Famer, was also a finalist at the 2008 Beijing Olympic Games in the Long Jump, holding several long and triple jump Canadian records.
The Collins know what it takes to get to the next level. Their expertise in athletics, knowledge, and dedication to developing young athletes is what they are committed to doing. They specialize in developing athletes in the core areas of speed, strength, agility and conditioning.
In addition to their tried and tested athletic program that has developed many young athletes, they also offer mentoring which helps build self-esteem and confidence in their athletes and mentees.
Canadian National Coaching Certificate
Tabia Charles-Collins, 2008 Olympian and University of Miami Hall of Famer, garnered seven conference titles at the University of Miami, was named an All American 10 times, which ranks second-most in program history. She was also named as both a Long Jump and Triple Jump All American in all three seasons at UM. She also has the Canadian Triple Jump record holder.
UNIVERSITY OF MIAMI SPORTS HALL OF FAME
ACCEPTANCE SPEECH
Tabia Charles-Collins is a motivational speaker who can take you through her journey as a young athlete who was recruited by over 50 U.S. universities, to winning an NCAA championship, competing in the 2008 Beijing Olympics, who went on to get her Masters degree from UofT, to owning her own businesses. Not to mention, becoming a University of Miami 2019 Hall of Famer.
Whether she is speaking to elementary school kids, high school students, athletes, or staff, she makes an impact on the lives of everyone she speaks to. She is a great example of an accomplished athlete who was able to transition out of track into a career.
If you feel like she could have an impact on your school kids, corporate staff, and any other group, you have the opportunity to hire her for a speaking engagement.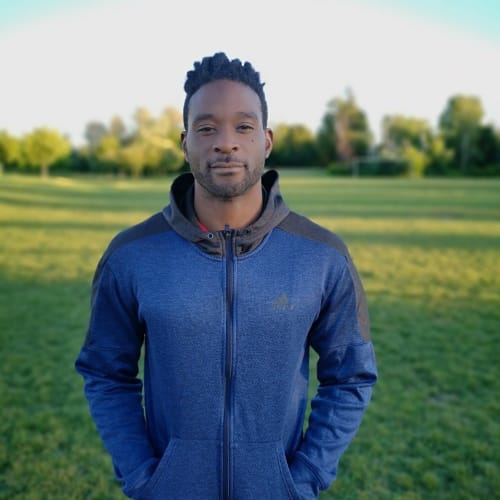 Canadian National Coaching Certificate
Dennison Collins was one of Canada's top sprinters in the 100m. He was the Ontario university 60m champion, NJCAA 100m and the 2007 Canadian track and field National championships finalist.
More recently, Dennison Collins has coached his athletes to athletic stardom. One of his athletes is the top Junior athlete in Canada. She is the 2019 national champion in the 100m and 200m, 2019 national OFSAA champion in 100m and 200m, and the list goes on.
Athletes i've coached Accomplishments